Executive Summary:
ITD Cementation India Limited (ITD Cementation) has been a silent contributor to the infrastructure growth in the country for over eight decades. ITD Cementation has successfully maintained its position as a market leader in the field of Maritime Structures and Foundations. ITD Cementation is a preferred contractor for Highways, Bridges, Flyovers, Industrial Structures and has established a strong presence in Tunnels, Dams and other Infrastructure projects.
With its eight-decade reputation of constructing some of the most prestigious & vital projects, ITD Cementation has an array of Infrastructure projects to showcase. They include large commercial and institutional buildings, elevated highways, viaducts, railways, elevated and underground metro rail, airports, water and waste water treatment plants, pumping stations, water conveying piping and utilities.
In recent years, ITD Cementation India Private Limited has received several awards for their excellent work, including the Best Infrastructure Company award from CNBC TV18 and the Outstanding Concrete Structure Award from the Indian Concrete Institute.
Overall, ITD Cementation India Private Limited is a reputable and reliable construction company that is well-equipped to handle a wide range of construction projects with a commitment to safety, sustainability, and innovation.
Customer Challenge:
ITD Cementation faced several challenges in developing a self-registration portal for prospective vendors. They needed a solution that could capture relevant data and documents, validate email and mobile numbers, and support field-based workflow approval systems with sequential and parallel approval workflows for different departments. The portal also needed to integrate with SAP to create vendor codes and prevent duplicate vendor code creation.
To add to the complexity, the customer needed to ensure that relevant copies of certificates received from vendors were stored as per mandatory requirements and also validates MSME vendors, and captures the name of the proprietor as per PAN card and trade name as per trade license. They also need to have a role-based user ID creation and management system and an audit log available for every process. A dashboard/MIS needs to be in place to track requests generated, status, and user base pending cases, and audit reports to track turnaround time. The challenge requires an efficient and robust solution to be developed to ensure seamless vendor registration and management.
Architecture and Technology Interface: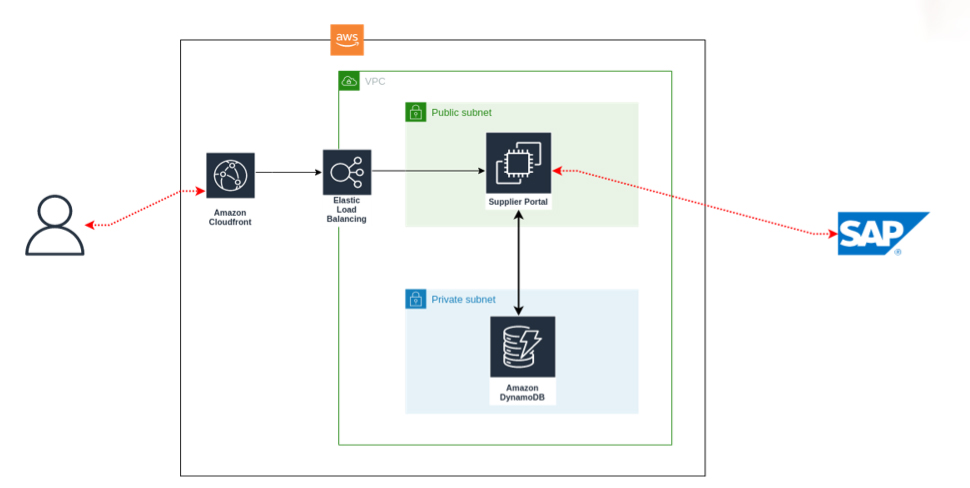 Why did ITD Cementation choose AeonX?
ITD Cementation chose AeonX as their partner to develop the self-registration portal for prospective vendors due to the companys expertise in developing such complex solutions. AeonXs experience in developing similar portals and providing end-to-end solutions was a key factor in their selection.
AeonXs team of experts demonstrated their technical capabilities in developing a portal that met all of ITD Cementations requirements, including the integration with SAP, role-based user ID creation, and management, and the validation process for MSME vendors.
Furthermore, AeonXs approach to project management, including agile methodologies, and their emphasis on communication and collaboration with ITD Cementations team, ensured that the project was completed on time and within budget. Overall, AeonXs expertise, technical capabilities, and project management approach made them the ideal partner for ITD Cementation to develop a robust and efficient self-registration portal for prospective vendors.
AeonX Solution:
AeonX provided a comprehensive solution for the development of a self-registration portal for prospective vendors for the client. The solution includes auto-fetching of details based on PAN/GST verification API, mandatory attachments such as PAN, GST, MSME (if applicable), and bank details, and an email/mobile-based validation process. The solution also supports a configurable business rule engine, sequential and parallel workflow approval, and multiple levels of approval mechanisms for vendor creation and vendor master data change requests.
The integration with SAP enables the passing of data and the creation of a business partner for both the company code and purchasing organization, while the facility to add multiple companies and purchasing organizations for BP creation/extension enhances the flexibility of the solution. Moreover, AeonXs solution ensures the prevention of duplicate data creation based on vendor name, GSTIN, PAN, and bank account number and provides a validation system for MSME vendors and proprietor/trade name capture. With a dashboard/MIS for tracking total requests generated, status, and user base pending cases, an audit log available for every process, and audit reports to track turnaround time, AeonXs solution provides a comprehensive and robust self-registration portal for the client.
Results and Benefits:
The implementation of the Self-Service portal for registered Vendors and SAP integration has brought numerous benefits to the company. With the PO/WO view and download facility, vendors can easily access and download their purchase orders and work orders, reducing communication time with the companys procurement team. The facility to upload ASN with QR Code Generation and POD, and get GRN/SES status on the portal through sync with SAP, has improved transparency and efficiency in the supply chain process. Vendors can now easily track the status of their goods and streamline the delivery process. The facility to check vendor outstanding along with ageing and view Ledger report and Balance confirmation report has improved vendor management and financial control. The post-payment detailed payment advice with bill reference, TDS deduction, etc., intimated to respective vendor registered email, has improved payment transparency and reduced payment disputes.
The SAP integration has further improved business operations by enabling two-way communication of data using Rest API and custom API creation as per business requirements. The Auto generation of Business Partner (BP) after the Workflow Approval has reduced manual efforts and streamlined the onboarding process. The QR Code Based gate entry at security checkpoints (IBD), MIGO, and MIRO has reduced manual data entry and improved data accuracy. The bundled features, such as Inventory Check during PR and PO Creation and Approval, have improved inventory management and reduced errors during the procurement process. Overall, the implementation of the Self-Service portal for registered Vendors and SAP integration has improved business efficiency, transparency, and financial control, leading to better vendor relationships and increased profitability.