Start Date Of Engagement: 13-08-2022
End Date Of Engagement: 25-09-2022
Date the project entered production: 15-09-2022
Executive Summary
One of India's Largest Integrated Services Company! BVG (Bharat Vikas Group) was started in 1997 with the motive of creating job opportunities for rural youth. Beginning with 8 people team, now BVG's manpower strength has reached to 56,000+ across the country.
BVG provides various services, which includes Mechanized Housekeeping, Landscaping and Gardening, Civil and Electrical Maintenance, Fabrication Services, Turkey Solutions, Logistics Support & many more services required by any organization. We work with philosophy of partnership and help our customers to focus on their core areas by managing their non-core activities.
Customer Challenge
The BVG Group faced several challenges with their SAP system in the past. Real-time data was not available in SAP, and consumption data was received only at the end of each month in an Excel file. As a result, entries had to be posted in SAP manually, which was time-consuming and prone to errors.
Additionally, there was no Purchase Requisition Creation or Approval process in place, which made it difficult to manage procurement efficiently. They had over 1000 sites, and end-users at different locations did not have access to laptops or desktops, which made it challenging to update the system in real-time.
There was no integration with SAP, which resulted in challenges related to stock variance in SAP and real-time reporting. Furthermore, there were issues related to unit of measure (UOM) as the supplier provided materials in boxes, but the UOM in SAP was each, which required manual adjustments before posting entries in SAP.
Overall, these challenges posed a significant obstacle to the BVG Group operations, and they had to rely on manual processes to manage their inventory, procurement, and reporting.
Architecture and Technology for New Interface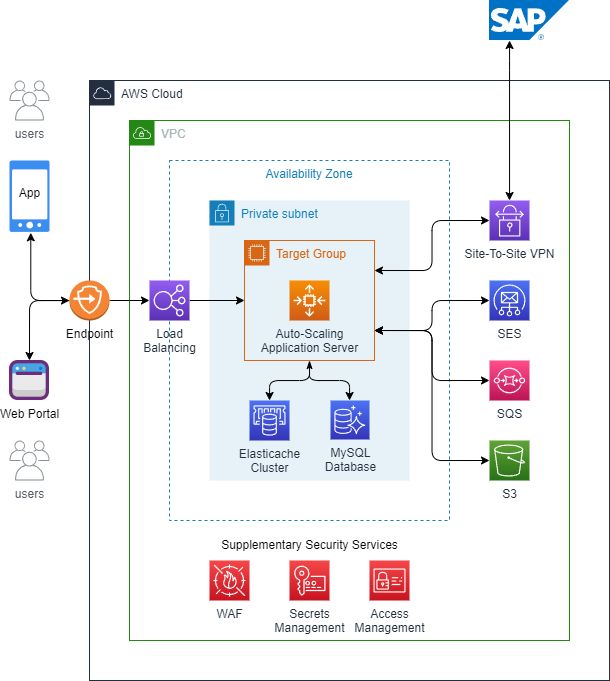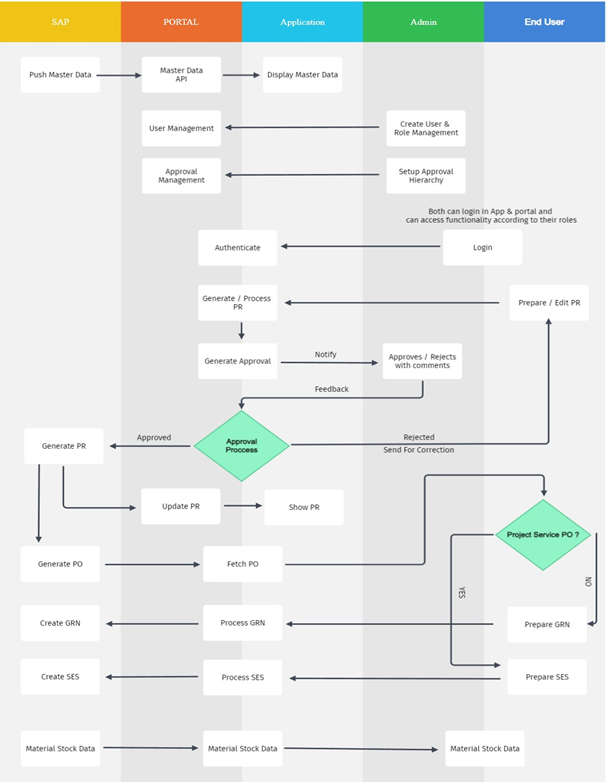 Why did BVG Group choose AeonX?
The BVG Group chose AeonX as their solution provider for several reasons. AeonX had a wealth of experience and expertise in the industry, with a reputation for delivering successful projects. The technological capabilities of them were also impressive, providing the BVG Group with confidence in the quality of their services.
AeonX presented a compelling proposal that met the needs of the BVG Group and aligned with their business objectives. The BVG Group appreciated AeonX's approach to the project and their willingness to work closely with them to achieve their goals. The BVG Group also considered factors such as cost, timeframe, and the level of support and communication provided by them. After conducting a thorough evaluation of several potential partners, the BVG Group determined that AeonX was the most suitable partner for their project.
Overall, the BVG Group was impressed with AeonX's reputation, expertise, technological capabilities, and approach to the project. They believed that AeonX could provide the solutions and support necessary to help them achieve their goals and improve their operations.
AeonX Solution
AeonX provides a robust cloud solution with unlimited user access that seamlessly integrates with SAP for processes such as booking purchase requisitions, goods receipts, and goods issue at project/site locations. The web application created by AeonX includes all the required fields for PR creation, goods receipts, and goods issue. The application stores data into a database and transfers the same to SAP server through APIs. A workflow approval process is also integrated into the application for all the transactions, ensuring a smooth approval process.
To monitor integrations and provide easy access to transactions, AeonX creates a custom cockpit in SAP. Users can view PRs, generate POs, perform goods receipt, invoice receipt, and goods issue in SAP against PO with a single click, based on data received through API. In case of incomplete integration requests, AeonX provides a retry button for easy completion of the integration process. If required, this activity can also be performed in the background without any user intervention, ensuring maximum efficiency and productivity.
Results and Benefits
After partnering with AeonX Digital, BVG Group was able to overcome the challenges they faced with their SAP system. AeonX implemented a real-time integration between SAP and a new interface, enabling BVG Group to access real-time data and manage their procurement and inventory processes more efficiently.
To ensure that inventory management is more streamlined, they set up a system where ROL is maintained at the project level. Additionally, master data such as item master, vendor master, and project master are created in SAP and then flown to the new application, ensuring data consistency and accuracy. To manage procurement efficiently, they set up a Purchase Requisition Creation and Approval process, ensuring that the procurement process is streamlined and transparent. This also enables the BVG group to manage their procurement activities more efficiently.
With transaction data like Purchase Requisition, Good Receipt, Consumption, Stock Transfer, Physical Inventory, Invoice Booking, and Payment Release being done in SAP and flown to the new application, the customer can now access PR → PO → GRN → Payment flow in the new application, ensuring greater visibility and transparency.
The new application also includes Email Notification and Approval process, enabling efficient communication between the different teams and stakeholders involved in the procurement process. A custom dashboard and report generation feature are also available in the new application, enabling the customer to extract relevant data and insights to make informed decisions.
Overall, the solution provided by AeonX has helped the BVG Group to overcome the challenges they faced in the past and enabled them to manage their inventory and procurement activities more efficiently. The real-time integration between SAP and the new application has also enabled the customer to access real-time data, leading to improved decision-making, streamlined processes, and increased efficiency.