SAP Cloud and Application Validation for Pharma and Med Device
Unlocking Digital Transformation and Compliance
In the life sciences industry, AeonX Digital stands as your trusted partner for SAP Cloud and application validation. Our solutions offer seamless digital transformation while ensuring strict compliance with industry regulations.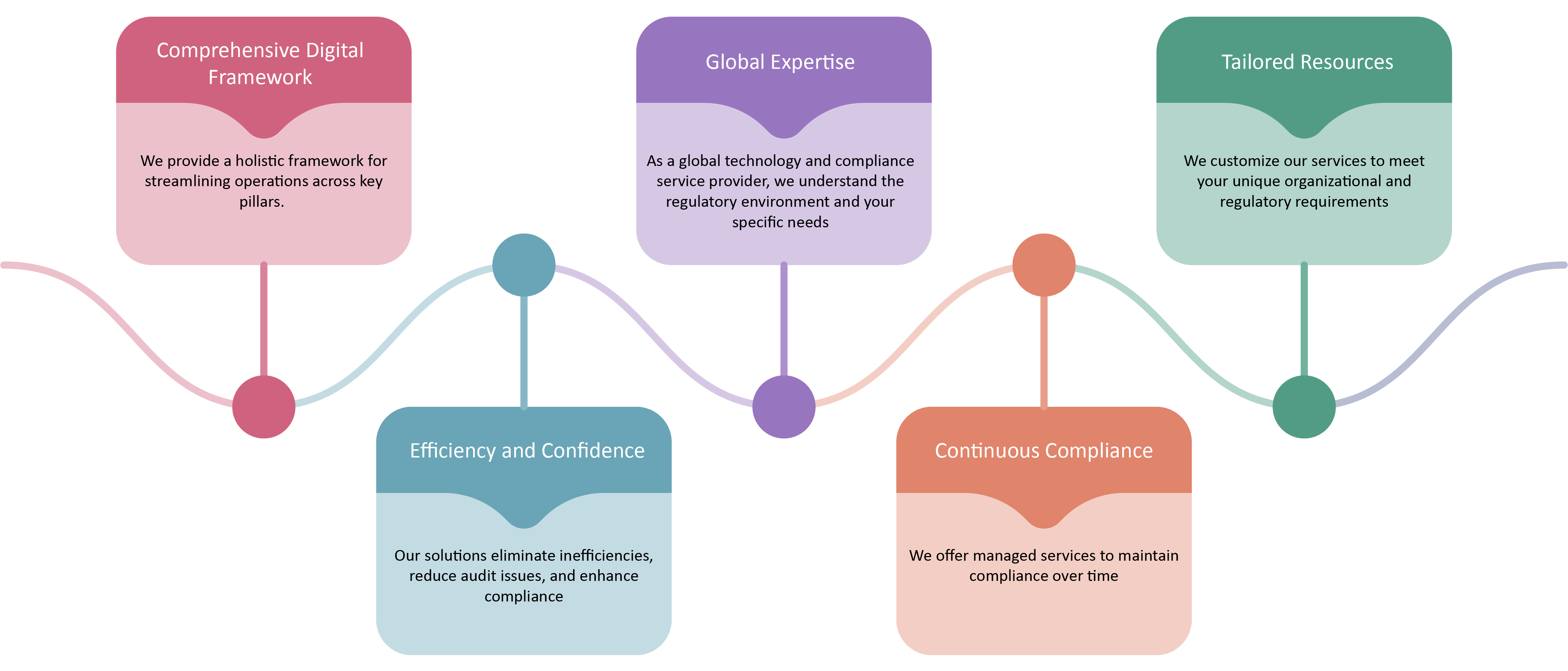 The life sciences industry demands adherence to strict regulations, particularly in GxP processes. We prioritize data integrity, privacy, and vulnerability mitigation when transitioning to the cloud. 
Our Approach: Validation Phases
Planning: We assess risks and benefits, creating a clear strategy with the right implementation partner.

 

Specification: We evaluate cloud architecture, security, and monitoring mechanisms.

 

Verification: Testing and control assessments ensure compliance.

 

Reporting: All qualification activities are documented for compliance.

 

Operations: We provide adequate controls for continuous monitoring.

 
Planning Phase: Change Control, Vendor Evaluation Report, Impact Assessment, Validation Plan

 

Specification Stage: Requirement Specifications, Risk Assessment, Architecture Document, Design Documents

 

Verification Phase: Qualification Plan, Installation, Operational, and Performance Qualification, Qualification Report

 

Reporting Phase: Traceability Matrix, Qualification Summary Report

 

Operations Phase: Continuous Monitoring, Organization's Periodic Review Reports, SOPs

 
Quality: We prioritize quality in technical advice, people, clients, and service delivery.

 

People: We create a people-focused culture, delivering high-quality standards and profitable growth.

 

Expertise: Our experienced team offers quick and efficient results.

 

Deep Experience: We focus on addressing the root cause in a timely manner.

 

Integrated Team: Our team and methodologies accelerate project progress.

 

Independent and Objective: We work for your needs, providing creative guidance and innovation.

 
Quality Management System Implementation
Partnering for Quality and Compliance Excellence 
AeonX supports "The Client" in developing a Quality Management System (QMS) to proactively address quality and compliance issues in the commercial business. 
We've partnered with Compliance Division to create a Commercial QMS approach and framework, resulting in a market-level framework for managing commercial quality and compliance. 
Validating Systems and SDLC Adherence
Ensuring Quality in Software Development

 

We assess adherence to SDLC methodology and ensure high-quality testing in validated applications.

 
We provide on-demand resources with IT and validation-specific skill sets to assess compliance with established processes and regulations, ensuring the highest software quality. 
Choose AeonX Digital for expert SAP Cloud and application validation in the life sciences industry. Unlock digital transformation while maintaining compliance with confidence.